The Metaverse: state of play, questions, and a virtual look to the future…
Around 100 people – including leading international researchers and experts from industry – recently gathered at the Paris-La Defense campus for a conference on the metaverse and virtual worlds. Amidst the hype and media attention surrounding this topic, this was an opportunity to look at the current state of play, to find out more about the latest industry developments, and to delve into some of the key questions and trends that researchers are studying. From the complexity of ownership to the new technologies that shape virtual worlds, or the ways businesses can create value through social interactions. These were just some of the topics that were tackled in the morning session before industry experts took the floor to share their experiences and insights.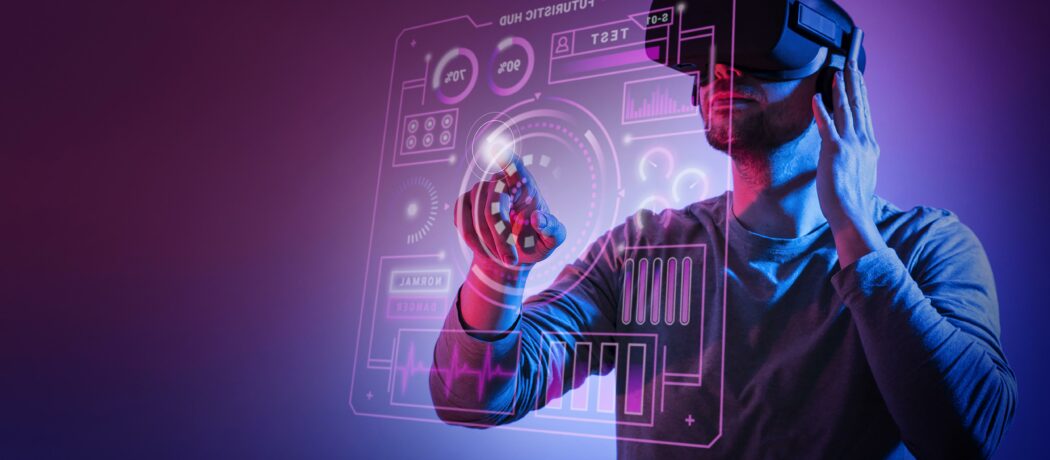 Share
The metaverse as a meeting place – social interactions as a mediator of success
Thorsten HENNIG-THURAU (University of Münster) described the metaverse as a virtual environment ​in which people, as avatars, act and communicate with each other in real time. Virtual reality (VR) was one way to enter the metaverse, he said, but not the only way. State-of-the-art VR enables "unprecedented levels of social presence," particularly compared to 2D solutions on non-VR-related tools.
For this expert, social presence will, therefore, be one of the critical factors of success for the metaverse. It has the potential to transport users into a shared three-dimensional world, ​regardless of our physical location – which he contrasted with the 'loneliness' that some users can experience in traditional 2D worlds.
He also outlined a series of business contexts where the metaverse can develop as a "meeting place" – employees connecting with other employees (including the examples of remote onboarding, teambuilding, virtual training, or twinning); companies interacting with customers (examples include presenting services, or selling real or virtual goods, or branding initiatives) and customers socializing with other customers.
He finished by outlining some areas for future metaverse-related research, including value creation, consumer behavior, and the transition of companies to the metaverse.
Ownership and possession in virtual worlds: decentralization, democratization, and new forms of ownership
Russell W. BELK (Schulich School of Business, York University) was invited to address the complex issue of (virtual) ownership and possessions in the metaverse. The development of the metaverse and digitalization has led to new forms of democratized and decentralized forms of ownership. For example, when a person buys an NFT (non-fungible token – a record in the blockchain to certify ownership and authenticity), they can, for instance, own a digital version of a piece of artwork or virtual real estate but they don't own the original or benefit if it (the original) rises in value.
He discussed the effects of fractionalization of NFTs – when digital ownership of an NFT is divided among several people. He noted that this type of ownership could reduce a person's 'attachment' to the item, their legal property rights, and even their feelings about psychological ownership. However, this division of ownership may not have an impact on their 'psychological possession' as this does not lie in the object per se but in what consumers have in mind.
The development of the metaverse, therefore, challenges our perceptions about ownership – moving beyond the traditional concepts of tangible legal ownership.
Unlocking the metaverse 4.0: new technologies that may shape virtual worlds
Carlos FLAVIAN (University of Zaragoza) opened his presentation on the new technologies that may shape our future by stressing that the metaverse was still very much in its infancy (the "metaverse 1.0") and that there were more questions than answers about what the metaverse will be. He believes that we are only experiencing fragments of what it might eventually become and that ​it is time to focus on moving towards the development of the "Metaverse 4.0".
He outlined several points he believed will be necessary for achieving this mature version of the metaverse: common concepts and vocabulary, improving computational capacity, interoperability between different platforms (for example, between Roblox and Sandbox), the development of decentralized autonomous organizations to manage the metaverse, and improving network capacity (for example by developing 5/6G).
The development of current immersive technologies/devices will also be essential for the future of the metaverse, for example, in terms of improving the graphic resolution and the realistic nature of images or even the comfort of these devices for users. He also noted that it will be essential to improve the sensory richness of technology (namely, the visual, sound, and tactile components).
"The metaverse may be virtual…​ but the impact will be real," he noted.
Augmented reality (AR) and a 'hybrid future'
Philipp RAUSCHNABEL (Universität der Bundeswehr München) started his presentation by stressing that he believes the future will be hybrid, combining the best elements of physical (offline) and digital (online) worlds.
Extended reality (XR) will be used to enter the metaverse – but he underlined the need to distinguish between AR and VR from a user perspective. He shared some of his insights into AR, highlighting that the basis for a successful AR application was the four "Cs" (content, context, consumer, computing device).
He also discussed the potential of AR to bring the consumer 'closer' to the brand and the possibilities of combining AR and VR technologies (through the lens of the film Kingsman, which has a scene where both technologies are used). He also reflected upon some of the challenges this may pose.
As technology evolves, he noted that it will be necessary for organizations to think about virtual content differently.
INDUSTRY EXPERIENCE AND TRENDS
Four experts from different sectors were invited to share developments and experiences from their company or industry during an afternoon session focusing on business practices.
Morgan BOUCHET (Head of Immersive Products, Orange, and Lecturer, SciencesPo) explained how Orange had already "dived" into the metaverse with several concrete actions, including the Orange safe zone initiative, which aims to provide safe spaces to protect young people against cyberbullying in some of the leading online gaming platforms such as Fortnite and Roblox. In terms of immersive reality, he highlighted the Eternelle Notre Dame initiative, which proposes a VR expedition of the historic Paris Cathedral (which is under reconstruction following the fire that ravaged the iconic monument in 2019).
Ellen VAN DE WOESTIJNE (VP Strategic Development, ARHT) took the audience into the world of hologram technology, a market that is predicted to grow rapidly in the coming years. In terms of trends with this technology, she noted the uptake for hybrid events, meetings, and training, where it has the potential to "wow" audiences or avoid "zoom fatigue." She also presented three categories of cases where holograms can or are being used: sharing information (meetings, events, speeches, etc.), sharing experiences (e.g., product launches, celebrity appearances, virtual customer service), or knowledge sharing (research, teaching, training, culture). Numerous sectors, including education (as with the case of IMD in Switzerland), retail, finance, and entertainment, are exploring this technology.
Jae MALONEY (Innovation Consultant and researcher, Air France/KLM) gave an overview of the many different solutions the company has developed, notably in the domains of training and safety. Its portfolio of XR solutions already includes pushback training and trainer controls, pilot, and crew training.  He outlined many of the advantages that VR provides for training, including improved outcomes, possibilities for repetition or for making mistakes without consequences or even reducing the organization's carbon footprint. He also shared some of the company's ongoing projects and some of the challenges that companies developing these technologies can face, including user adoption, speed of change, and integrating many technologies.
Emanuela PRANDELLI (Bocconi University) demonstrated how luxury brands can lead the path and remain relevant for the new generations by offering unique and original experiences through the metaverse. She talked about the omnichannel environment and the importance of consistency and integration among platforms and devices. She underlined the new need for customization, and – in an era of real-time communication – she stressed that being authentic could be more important for luxury brands than being "perfect."  She also underlined that luxury brands needed to be content curators – and discussed how gamification, digital products, and NFTs could drive customer engagement. She concluded by explaining how phygital environments bring much more customer data, which in turn can have a substantial impact on marketing.
---
Some key takeaways and questions from the four workshops and the conference – Gwarlann DE KERVILER, Bernadett KOLES, and Lana MULIER
The conference provided a comprehensive look into current developments, essential questions, and emerging trends in the metaverse, with a focus on social interactions as a vital element for success in the metaverse.
The metaverse is challenging our views on possessions, social presence, and the differences between reality and virtuality.
Brands will need to adjust their approach to the metaverse by taking the user's perspective more into account and by investing in the right technologies.
The concept of ownership in virtual worlds is undergoing significant transformation, with the rise of NFTs and other technologies challenging traditional notions of possession and attachment.
A hybrid future, combining physical and digital elements, is anticipated, with augmented reality playing a crucial role in bridging the gap between offline and online experiences.
Industry experts from various sectors highlighted practical applications of immersive technology, ranging from creating safe spaces in online gaming platforms to leveraging hologram technology for enhanced events, meetings, and training experiences.
Luxury brands were also advised on how to stay relevant in the metaverse through unique experiences and authentic engagement strategies.
Influencer marketing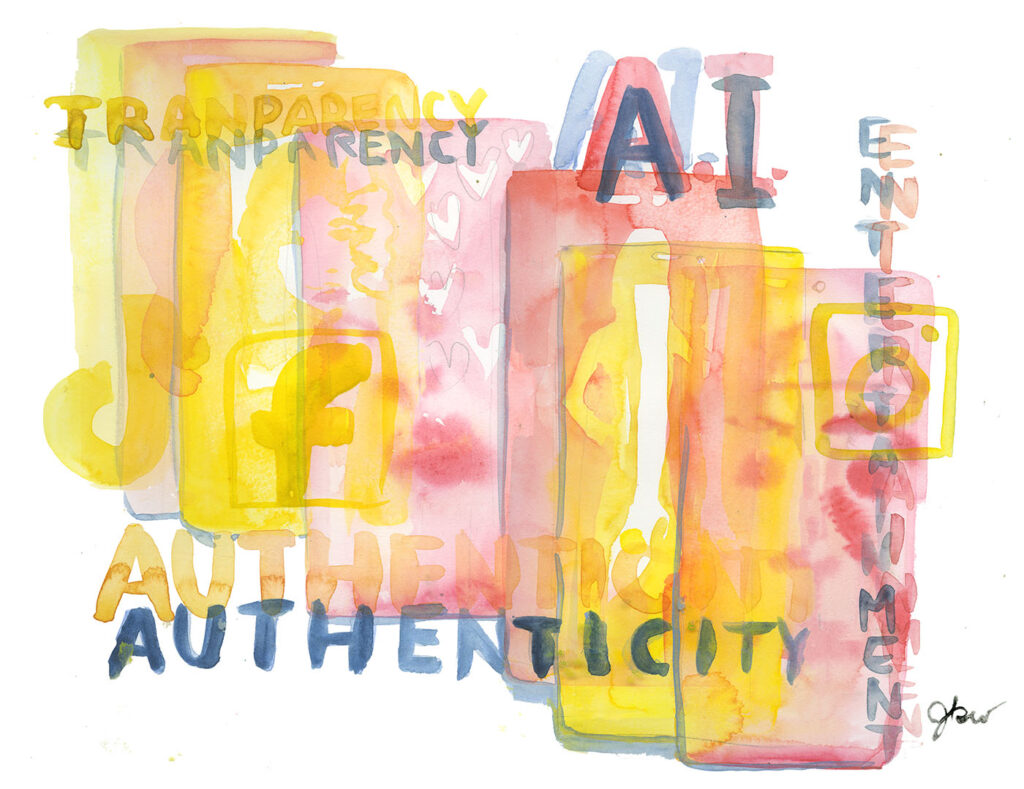 New versions of influencers (e.g., virtual and AI-generated) are becoming increasingly prevalent alongside their human influencer counterparts, with some brands creating their virtual spokespersons, like Livi from Louis Vuitton. There is much future potential in VIs to pave the way to the metaverse and to help brands offer their customers seamless experiences across multiple channels.
There is a need for regulation in this domain, with particular attention to considerations of authenticity and transparency to protect consumers.
Virtual possessions and ownership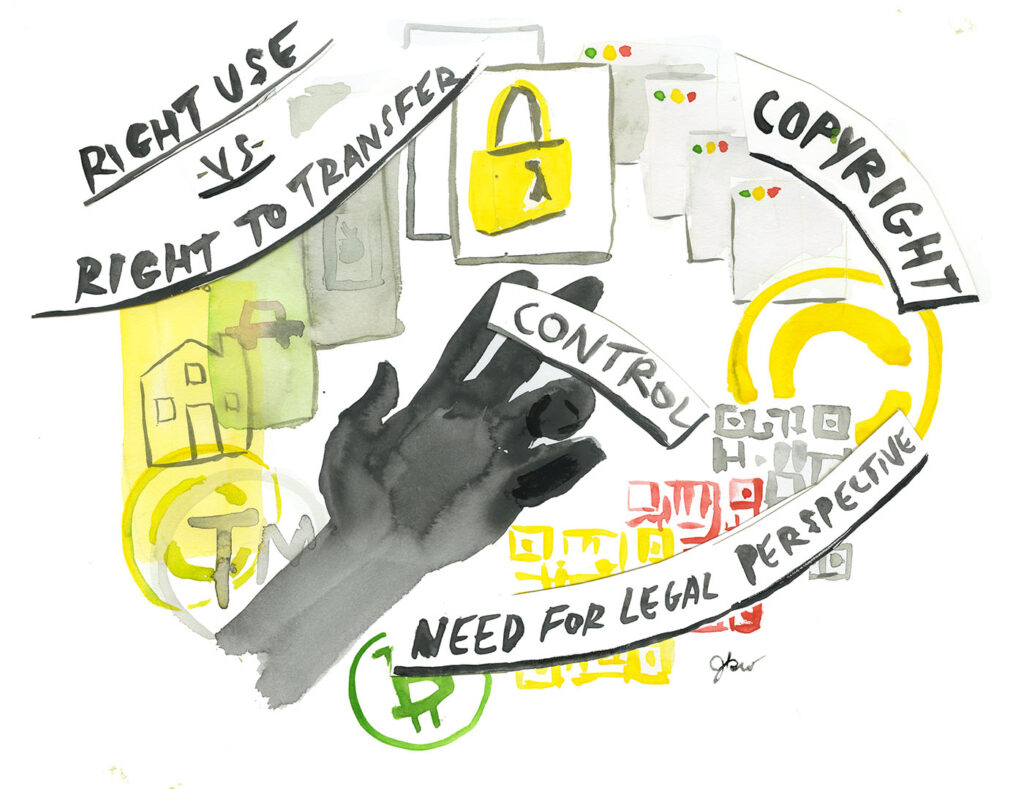 How people own – or perceive ownership – is likely to change in the metaverse. Digital possessions have already expanded traditional views on the ownership of tangible goods, but with the proliferation of virtual spaces, these tendencies are likely to evolve even further. People feel ownership over things they don't necessarily legally own.
Will platforms take over ownership?
Avatars and digital identities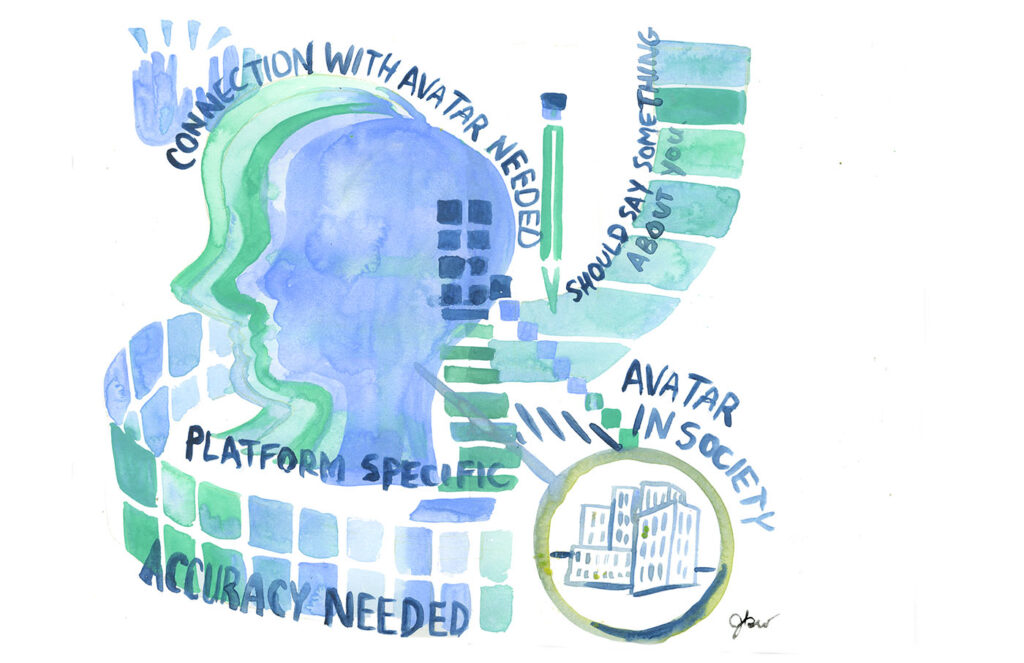 Self-identity is very important – to what extent should avatars be connected to a person?
Need for research to study how people's behavior adapts when they present themselves in virtual space.
Privacy and regulation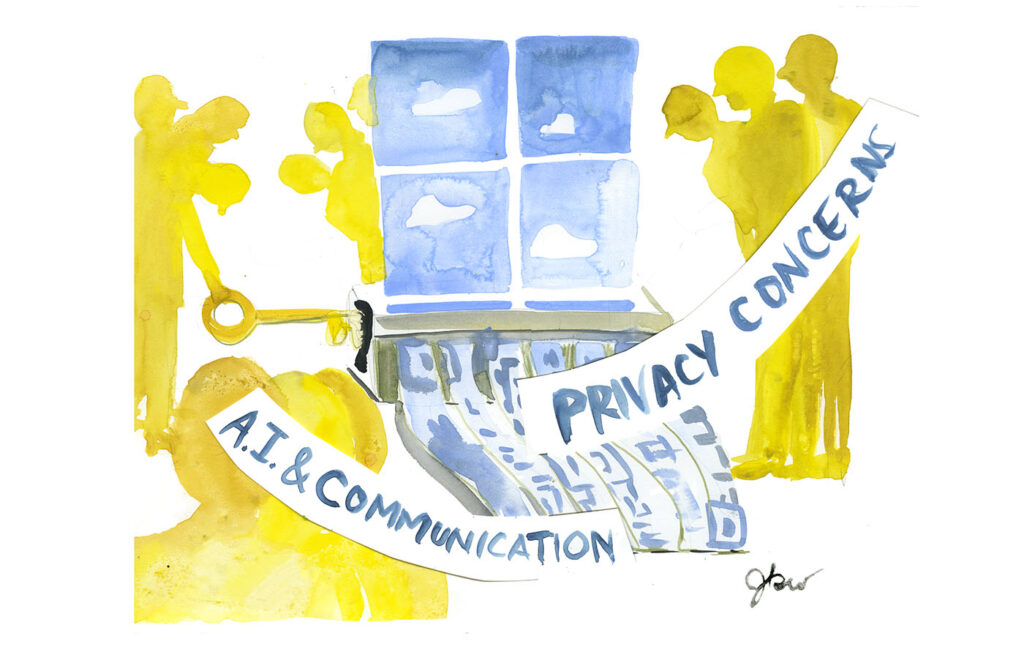 Participants reflected on data and privacy protection and discussed the "dark side" of the metaverse, including topics such as privacy in social media (information sharing between platforms) and threats to other people's privacy, as well as the consequences of NPC (non-player characters) and avatars with AI features.
You can also find more takeways on the conference website: CONFERENCE ON VIRTUAL WORLDS & THE METAVERSE
This conference was supported by the Commission Recherche of Lille Catholic University and its Foundation.
---
---
---
Contributors