Identifying the keys to developing for-profit social enterprises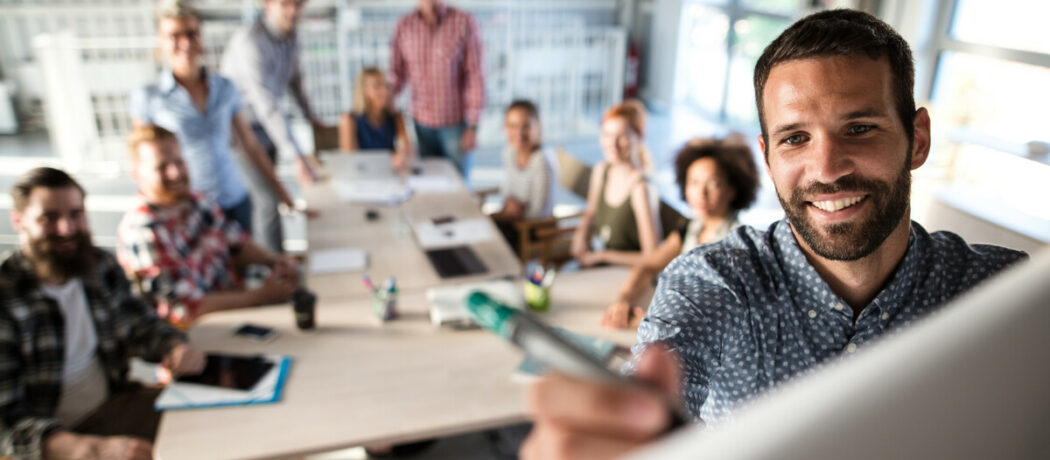 Share
Over the last years, a profusion of business models and structures have emerged as a response to different social and environmental challenges. New types of corporate (for-profit) entities with a social mission, such as the benefit corporations in the US, enterprises à mission in France, or community interest companies in the UK, have developed rapidly and blurred the boundaries between traditional nonprofit organizations and classic for-profit companies.
Professor François Maon from IÉSEG, and his coauthors Coline Serres and Marek Hudon (Université libre de Bruxelles) have recently carried out a comprehensive international study of social corporations – for-profit entities that have the social mission formally stated in their articles/bylaws. Their work aims to provide a clear overview/typology of the types of corporations that have developed in different countries and their legal and governance structures; and secondly to identify the key mechanisms that enable such companies to be successful in pursuing their dual mission.
"Organizations everywhere are now under pressure to perform well both economically and in terms of different social and environmental criteria," explains Professor Maon. "This pressure comes from many different stakeholders: not only from consumers, investors and public authorities, but increasingly companies' own employees who have high expectations in terms of an organizations' values and engagement to sustainability." Such pressures have also given rise to new forms of for-profit social enterprises, or social corporations, that combine social/environmental and economic missions, and have emerged across many continents including the US, Europe and in Latin America.
Dr. Serres adds that these new structures are a way for social enterprises to fit within the current capitalist framework and may provide more flexibility (for example in terms of governance) for social entrepreneurs compared to traditional nonprofit organizations. They can have advantages in terms of mobilizing resources, for example gaining access to sources of funding, and also legitimacy.
The team of researchers set out to study the different types of legal and governance structures that have developed and how such corporations deal with the tensions and challenges that can arise from 'balancing' the pursuit of profit with different social or environmental goals.
3 main types of social corporations emerge internationally
"We found that overall social corporations could be classified into three main types", explains Dr Serres. A specific for-profit legal status which is dedicated to social corporations (for example benefit corporations like Patagonia or Bioclean in the US or Italy); companies that have a classic for-profit legal status but they receive a form of state certification to demonstrate they are part of the social economy (social and solidarity economy companies like La Ruche qui dit Oui in France); and finally social corporations that are have a classic for profit status but voluntarily include their social mission in their bylaws (e.g Opus in the UK).
The authors analyzed the different types of governance mechanisms for these three structures for example in terms of their ownership structure, the distribution of profits and voting rights for the board of directors or during a general assembly. These are outlined in the table below.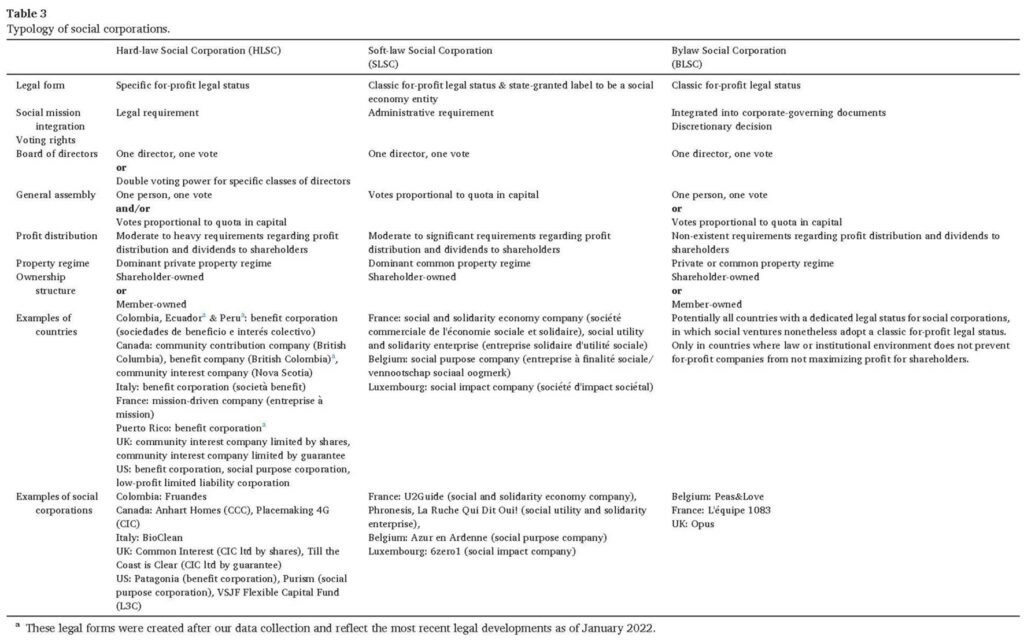 "Identifying their distinctive governance mechanisms enabled us to better understand how they work in line within the framework of their specific legal and administrative requirements and the commitments they must make," explains Professor Maon. "But we really wanted to go further and help managers and practitioners understand what capabilities and skills (related to governance) enable them to avoid mission drift – the progressive deviation of actions from the (social) mission – and be truly sustainable in the long run".
Key pillars: performance, conformance and responsibility
The researchers identified three main pillars relating to governance; performance, conformance and responsibility.
"Firstly, social corporations have to be skilled at crafting a balance or building an equilibrium between their social/environmental and economic performance. Therefore, it is important they can hierarchize and prioritize different objectives. The problem that some social corporations face is that they want to 'do everything', be successful financially and generate positive social/environmental impact. This can be challenging or sometimes even incompatible. Therefore, it's really important that the directors of such companies can identify the challenges or constraints and prioritize different goals."
Dr. Serres and Professor Maon also point out that social corporations often have less financial resources than classic for-profit companies which means they have to intensively leverage the resources they have and ultimately be effective at doing 'more with less'.
In terms of the conformance, Professor Maon points out that"corporations need to demonstrate that they are accountable and that the social mission is not just there to attract interest from consumers or investors." He believes it is crucial that they are following and acting in line with their social mission and that they measure both their social and economic performance to meet stakeholder expectations.
In addition, social corporations need to ensure they truly integrate different groups of stakeholders (internal and external) in strategic decision making. For many types of social corporation this is a legal or administrative requirement, and this type of collaborative governance is key to social corporations.

Finally, with regards to responsibility, the authors explain that social corporations are characterized by the fact they are looking to generate change both for and with the community. Corporations need to ensure their impact is genuinely co-created with their stakeholders. "It's not only about involving them in decision making (conformance) but also in the activities that create impact".
Patagonia – a retailer of outdoor clothing and gear – for example, involves different groups of people from within and outside of the company, to take part in different environmental cleanup activities it organizes.
Practical applications for entrepreneurs and policymakers
Professor Maon notes that this study enables social entrepreneurs to better understand the panorama of different structures that exist (sometimes within the same countries) and the potential constraints they may pose."It provides tools to reflect about the types of legal structure that might best fit their specific objectives as a social entrepreneur.  It also identifies some of the key challenges they may face – and the skills they can develop to deal with these challenges."
In terms of policymakers, Dr. Serres notes this work will be useful to those bodies who are developing funding models at the regional national or European level."It gives a clear overview or map of their different specificities which will be useful for example when developing calls for funding".
Professor Maon notes the study will also be useful for future discussions when formulating taxation policies for different types of social enterprises.
Methodology
The authors carried out a systematic review of around 50 bylaws in seven different countries and followed this up with an in-depth analysis. Having developed a typology of social corporations they carried out multiple case studies and collected data from three social corporations in the UK and France including interviews with employees of these companies.
*Social corporations under the spotlight: A governance perspective; Journal of Business Venturing (2022) Coline Serres, Marek Hudon & François Maon.
**This research has been carried out thanks to the support of the Fondation de la Catho de Lille and the Université libre de Bruxelles.
---
---
---
---
Contributors